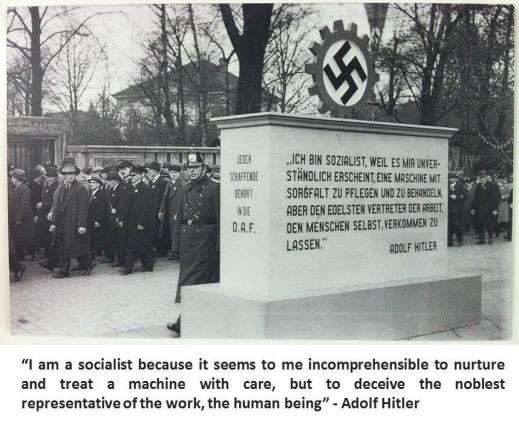 What amazes me more than anything is that I have never seen this picture before. You can easily understand that our modern socialists do not wish anyone to recall their ancestry but it is undeniable. The following text is from the introduction to Arnold Lunn's 1939 Communism and Socialism: A Study in the Technique of Revolution. Here again we see that there was a time when it was perfectly well understood that Nazis and socialists shared the same ideology.
We are indebted to Soviet Russia not only for the horrors of Russian Communism, but for the example which Russia set and for the consequences of that example in other countries. The Nazi Gestapo is modelled on the Ogpu and the atrocities of Dachau rival the brutalities of the Russian penal camps. Socialism, which necessarily involves compulsion, cannot be imposed on a State without tyranny and terrorism, but neither tyranny nor terrorism are peculiar to Russia. Nazi Germany has not only adopted the incidental features of revolutionary Socialism, in Russia and elsewhere, but is approximating more and more in its economic structure to the Socialism of Soviet Russia. "While Germany has retained the outward forms of capitalism," writes the well-known economist, Paul Einzig, "for all practical purposes her economic system is that of Bolshevism – the nationalistic brand of Bolshevism, it is true, but not the less Bolshevik for that.

"The owners of property," Dr. Einzig insists, "are little more than paid managers of their own factories and landed estates. Their profits are strictly limited by the fixing of a maximum rate of dividends, by heavy taxation which is likely to increase, and by the 'voluntary' contributions to Winterhilfe. Their activities are surrounded by innumerable regulations and are subject to interference by various organs of the Government, by petty local party officials, and by workmen's committees. They are ordered to sell their products at a fixed price, irrespective of whether it allows them a margin of profit. They are ordered to export at a loss, irrespective of whether they can recoup themselves by selling in the home market at a profit….

"One of the characteristics of the Communist system is that production is not dependent upon the working of the financial system, but on the amount of labour, raw material and industrial capacity available. This fundamental principle has been taken over in full by the German brand of Bolshevism." (Lunn 1939: x-xi)
From Lunn, Arnold. 1939 Communism and Socialism: A Study in the Technique of Revolution. London: Eyre & Spottiswoode.
I will also add this which was posted by some anonymous commenter on a different thread, but captures to perfection why every socialist denies that every single actual existing form of socialism is not real socialism.
The reason why Socialist ideology convinces impressionable people it would work is that it preys upon the narcissism of everyone by tricking them into believing their own personal vision of what socialism would look like is the vision that will in fact happen.

Since only one overall plan can be enforced however, each socialist sees something different happen in socialist experiments than what their own personal visions looked like.

Hence every socialist can then claim every past socialist experiment is not real socialism, which doubles as an excuse for them all to keep rabble rousing for more socialist experiments…

Until they each see their respective personal visions realized…

Which requires each of them to be the dictator to enforce their vision…

But only one plan can be implemented…

One party or one person "wins".

Then every other socialist begins to hate that socialist and claim not real socialism because it wasn't their personal vision for socialism…

So socialism naturally becomes a fight to the death for whose plan is to be enforced…

Which is why all socialist experiments have been totalitarian nightmares of socialists killing other socialists…

And at the same time they all keep thinking real socialism never existed…