She really is a fool of the highest order. Then there's this: Andrews accuses PM of 'pandering to extremists'.
Victorian Premier Daniel Andrews has accused Prime Minister Scott Morrison of "pandering to extremists?? in the wake of a large protest in Melbourne.
On Saturday, tens of thousands of protesters took to the streets in Melbourne's CBD in opposition to the state government's pandemic laws and COVID-19 vaccination policies.
The peaceful protest capped off a week of demonstrations at State Parliament where there were some ugly scenes including the parading of gallows.
Asked about the threats during the week, Mr Morrison said such behaviour had no place in public protest but could understand why some Victorians were frustrated with the state government.
Mr Andrews on Sunday said those comments were offensive to the 5 million Victorians who had received their vaccinations.
What is really a major worry is that our political leaders are such fools, with Andrews and Lambie so brain dead to the issues that matter. How about we factor things like this into the equation: UK STUDY — Vaccinated Adults under 60 are dying at 2X Times the rate of the Unvaccinated….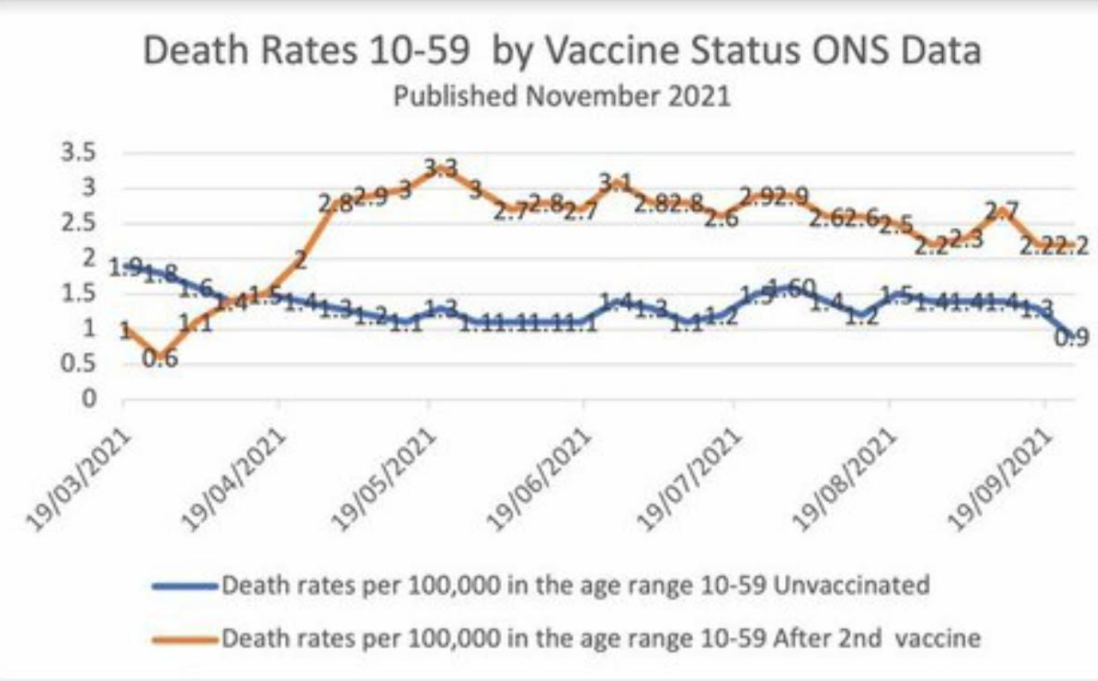 Lots more data just like that everywhere, but seldom where Dan Andrews or Jacqui Lambie can see it apparently.
Plus this from Small Dead Animals.
Cardiology Advisor- ACS Risk Biomarkers Significantly Increase After mRNA COVID-19 Vaccine

The risk of developing acute coronary syndrome (ACS) significantly increased in patients after receiving mRNA COVID-19 vaccines, according to a report presented at the American Heart Association (AHA) Scientific Sessions 2021, held from November 13 to 15, 2021.

The PULS Cardiac Test measures multiple protein biomarkers, including hepatocyte growth factor [HGF], soluble Fas, and IL-16, and uses the results to calculate a 5-year risk score for new ACS. The PULS score increases with above-normal elevation. Allparticipants received this test every 3-6 months for 8 years.

That sounds like one heck of a good base line to start from.

As a result, the 5-year ACS PULS risk score increased from 11% to 25%. By the time the report was published, changes had persisted for 2.5 months or more after the second vaccine dose.

The study author concluded that "mRNA [vaccines] dramatically increase inflammation on the endothelium and T cell infiltration of cardiac muscle and may account for the observations of increased thrombosis, cardiomyopathy, and other vascular events following vaccination."

Emphasis mine
Some more on ACS or "acute coronary syndrome" .