Now there's a thought:
Australia builds massive quarantine CAMPS for Covid… camps for unvaxxed coming next? 
That's from the website, Revolver.com. But at the link there is nothing about who they are going to put into the camps, other than returning travelers, or why they need so many spots for quarantine camps that won't even be opening until next year. The suggestion is only in the headline, but it is worth thinking about. This is what you do find at the link.
Construction is under way at Melbourne's Centre for National Resilience – the unwieldy name given to the new quarantine facility in Mickleham – with the camp set to open by the end of the year.

A community engagement session was held earlier this week on progress of the fast-tracked 1000-bed accommodation site for returning travellers, however residents were told that builders would not be delayed by any consultation process.

Earthworks have begun at an empty paddock in Melbourne's north, which sits next to the federal government's pet quarantine facility and is about 300 metres from homes.
This entire covid-hysteria is here for the long-term. Not cheap to build but no doubt will cover its costs with everyone who travels back from overseas forced to stay for at least two weeks.
And then there are the unvaxxinated! What are these madmen going to do with them? The modern gulag for the modern dissident.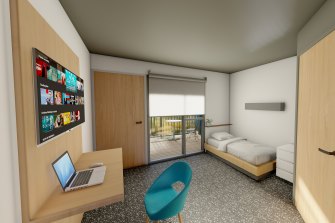 Could look like. Doesn't look like it's designed for couples either.