The photo is from this: Brittany Higgins' partner David Sharaz speaks out. Everyone is oh so brave, and undoubtedly votes Labor.
Liberal staffer Brittany Higgins' partner has resigned from his job over fears that the Morrison Government will punish the company he works for by scrapping government contacts.

Former press gallery journalist David Sharaz, who worked for Sky News and SBS before joining a media monitoring company this year, said he accepted he could no longer remain in the role.

Mr Sharaz said his bosses had been supportive and given him time off last week to support Ms Higgins but he accepted that his job, which involves seeking government contracts, was no longer tenable.

In exclusive claims to news.com.au last Monday, Ms Higgins alleges she was raped by a colleague in a minister's Parliament House office in March 2019.

Ms Higgins claims she was forced to choose between her job and seeking justice.

Mr Sharaz said his decision to resign had "no regrets" for standing by Ms Higgins and supporting her fight for justice.
Let me pair that up with this: 'Need to reflect on this': Victorian schools respond to movement calling for better consent education. This, mind you, is about high school girls. What a difference from when I was in high school! Now they teach them how to be selective in who you bonk.
Several Victorian schools have issued messages to parents in response to a deluge of sexual assault claims made by young women across the country who voiced their stories as part of a movement demanding better education around consent.

Private schools Xavier College and Geelong Grammar School wrote to their school communities this week after a petition started by Sydney woman Chanel Contos [see photo below] called for sexual consent to be taught in schools from a young age.

It saw hundreds of young women come forward with disturbing allegations of sexual assault and rape from their time as students or soon after, with many describing being forced to perform sex acts or being assaulted while intoxicated or passed out.
There is certainly a need for something to be taught but I'm not sure I can say exactly what it is. The disturbing allegations link runs to 70 pages and is astonishing in its detail and more disturbing than you can imagine.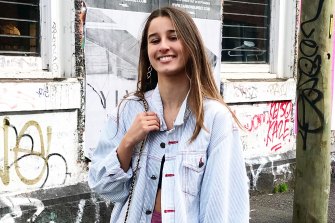 Chanel Contos, whose online petition calling on people to come forward with allegations of sexual assault is forcing schools to change.