It is quite amazing the hagiography that surrounds these political nonentities who have happened to be premiers when the Chinese Flu arrived. Over-reaction to the maximum extent has worked for them all. The experience has cured me of any notion that elections are to determine the best for the community. Each and every voter asks themselves, what is good for me personally and then votes accordingly. And with the pandemic, they have asked themselves, am I personally still alive? And receiving the answer, yes, vote for the people who they believe allowed that to happen. Even if this Covid thing was very unlikely to kill them, they have been grateful nonetheless.
As for us folk here in DanAndrewStan, our gratitude knows no bounds, as boundless as the local ignorance of pretty well everything that matters to their own personal wellbeing. And in the spirit of goodwill towards all men (and women) and even toward Dan himself, let me bring the following two articles from The Age to your attention. First this: 'Strong Dan' and 'feared Dan': The two faces of Victoria's Premier.
Premier one is strong and authoritative, with a seemingly invincible self-belief. His addresses to the state, day after day over weeks and months, exuded firm, even stubborn and unflappable, resolve and clarity. He carried most of the people with him, and this was despite the millstone of heading the most incompetent Australian administration in living memory around his neck…. Premier two is a hounded authoritarian running a one-man government, dubbed by some as Dictator Dan, with an ineffectual Parliament and the usual check on leaders in the Westminster system – the cabinet – sidelined. Living in a small bubble of his own creation, with dogged self-belief, seeming at times like a delusion of grandeur, he showed an obsessional fear of letting go, lest the whole world disintegrate.
Comes with this picture I have seen for myself quite a few times on trips into town.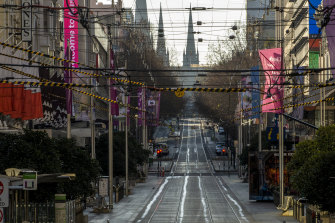 Missing only are the trams which ran through the entire metropolitan area the whole time, usually empty but at least everyone was being paid their wage to maintain demand along with the entire Victorian public service most of whom had no actual functions to fulfil. Working from home must have been so exhausting.
The other article is this: State government road debacle leaves project stalled, contractors owed millions. This is Premier Two who will have bankrupted the state and still depends on Chinese Belt and Road sellout of the state to pay the bills. In the meantime:
Jean-Paul Cellier's business, STA Traffic, did 12 months of paid work as a subcontractor for Civilink on Derrimut Road until early this year, when the money stopped amid a flurry of "promises and stalling tactics" by the company. STA claims it is owed about $300,000. "We're used to waiting to get paid, that's normal," Mr Cellier said, "but not getting paid at all makes you very frustrated. The government is paying to get this project done and that money is going somewhere – ultimately, we've missed out."
Ho Ho Ho. We have run out of money. And do not for a minute think it has ended here.
Despite the problems involving WBHO, the government has shortlisted it as a favoured builder for its separate upcoming $2.2 billion Suburban Roads Upgrade. In 2019, WBHO executive chairman Mr Nel admitted of the Western Roads project: "We didn't realise that we would have to do a lot more work than we priced for." In its financial reports, the company complains of "perpetual delays" and rising costs tied to changes in design scope and problems with utility providers, as well as a misinterpretation of technical requirements and subcontractor failures. WBHO is pursuing claims against its design consultant and utility providers.
Complete financial disasters at every turn. There is no Premier One but wait till everyone finds out.