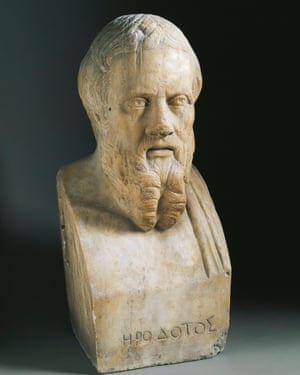 My favourite book of all time is Herodotus's Histories. The first ever book of history, it tells the story of the war between the Greeks and the Persians in the fifth century BC for the survival of Western Civilisation before it had even commenced its journey. A storyteller who travelled everywhere to gather personal accounts of what others had witnessed, but with so much ancillary information and irrelevant tales about everything under the sun – including about the first people ever to have sailed around Africa which you know was true because they had observed that the sun eventually was no longer to their south but at some stage was found to their north. Lots and lots and lots like that, including some of the most astute philosophical, political and historical reflections you will ever read. Amazing book, but I can imagine not to everyone's tastes. It's also a reminder that you should get your reading in early since as you get older, you don't have the patience you had when you were young.
Ah but this is merely prelude to: Nile shipwreck discovery proves Herodotus right – after 2,469 years.
In the fifth century BC, the Greek historian Herodotus visited Egypt and wrote of unusual river boats on the Nile. Twenty-three lines of his Historia, the ancient world's first great narrative history, are devoted to the intricate description of the construction of a "baris".

For centuries, scholars have argued over his account because there was no archaeological evidence that such ships ever existed. Now there is. A "fabulously preserved" wreck in the waters around the sunken port city of Thonis-Heracleion has revealed just how accurate the historian was.

"It wasn't until we discovered this wreck that we realised Herodotus was right," said Dr Damian Robinson, director of Oxford University's centre for maritime archaeology, which is publishing the excavation's findings. "What Herodotus described was what we were looking at."
Known as The Father of Lies (as well as the Father of History) because of his many fantastical tales, but appears that this one has turned out to be true. As for the book itself, it tells the story of the preservation of Western Civilisation that might have been snuffed out before it had even begun.